There are cultural experiences that you will remember all your life. May I suggest as a candidate sitting in the Royal Albert Hall with closed eyes, waiting after the first movement of Ravel's piano concerto in G major for French pianist Hélène Grimaud to fill the huge auditorium that seats up to 5,000 people with an unbelievably gentle carpet of sound (is that even an English phrase or just a clumsy translation from German?).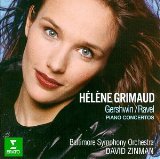 I heard her do exactly this at the PROMS a few years ago, and it is a captivating and very memorable experience indeed. You can buy a studio recording of that concert with her and the Baltimore Symphony Orchestra by clicking on the image above, or you can listen to a few minutes of a decent enough recording by Argentinian pianist Martha Argerich after clicking on the following image. (Click on the play-button next to no.5 after scrolling down to get to the "MP3-songs".)
Hélène Grimaud returns to the BBC PROMS with Ravel's piano concerto in G major on Tuesday, 24th August 2010.