Contemporary classical music is a very mixed bag indeed. Some of it, even I would consider noise. With the disclaimer, of course, that there may still be gold hidden inside, and I just can't see, er, hear it.
Salonen, for me, is full of gold. Full of all kinds of colours and textures, actually. Gold, grass, a light summer breeze, the heavy doughy, deeply aromatic texture of a grilled cheese, a light-footed race of a bollywood dance group, the sombre concentration of a funeral moment, sarcastic laughter – in short, a whole universe.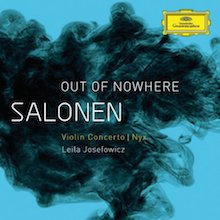 I am talking about his violin concerto. I first came across Salonen as a composer in Leila Josefowicz' recital album with his "Lachen verlernt." In line with its topic (the holocaust), it is more one-dimensional. But of harrowing elegance.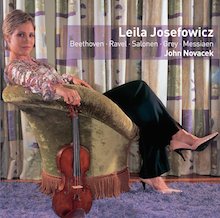 But the violin concerto is not easy listening. You are unlikely to walk out of the concert hall whistling many of its tunes. Give it a chance, and parts of it will not even need time to grow on you, but grip you instantly. The other parts will indeed grow on you with time.
I had not paid attention to the Barbcian and its classical music programme for a while, and I almost missed this concert. Luckily, due to its not-so-conservative programme, it was not sold out and I got a very decent ticket the night before. Since you are reading this after the fact, all you can do is buy the CD. But do it, if your vocabulary and interest transcend Beethoven and Mahler, you may well enjoy it.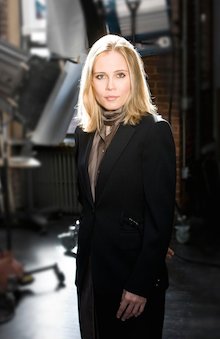 And Josefowicz? Well, I would give anything a try that she feels worthy of performing. She certainly is a unique performer: She seems to immerse herself so much into her music that she apparently could not care less what impact her impassioned grimaces might have on the listener. But there is no such distraction on the CD, of course. She is a technically impeccable artist and happily pairs that with an emotional range second to none. Her history spans another universe in itself from child prodigy to favourite at the BBC PROMS (including one last-night performance), but most importantly Jeanne d'Arc of ground breaking new composition.
If I were anything like her, I would be exceedingly happy by the fact alone that I had been a focal point of the kind of contribution to human culture that enriches our lives. She is a champion of contemporary classical music not unlike the older Anne-Sophie Mutter. Music would be so much poorer without brave personalities like these. You can occasionally get Leila to play you some Mendelssohn. But she does it mainly so you can be tricked into following her on to a much more exciting path. When you place that order for the Salonen, add another violin concerto written for her, one by the Scottish literal and metaphorical giant Oliver Knussen.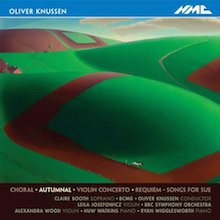 Expand your horizons. You know you want to.